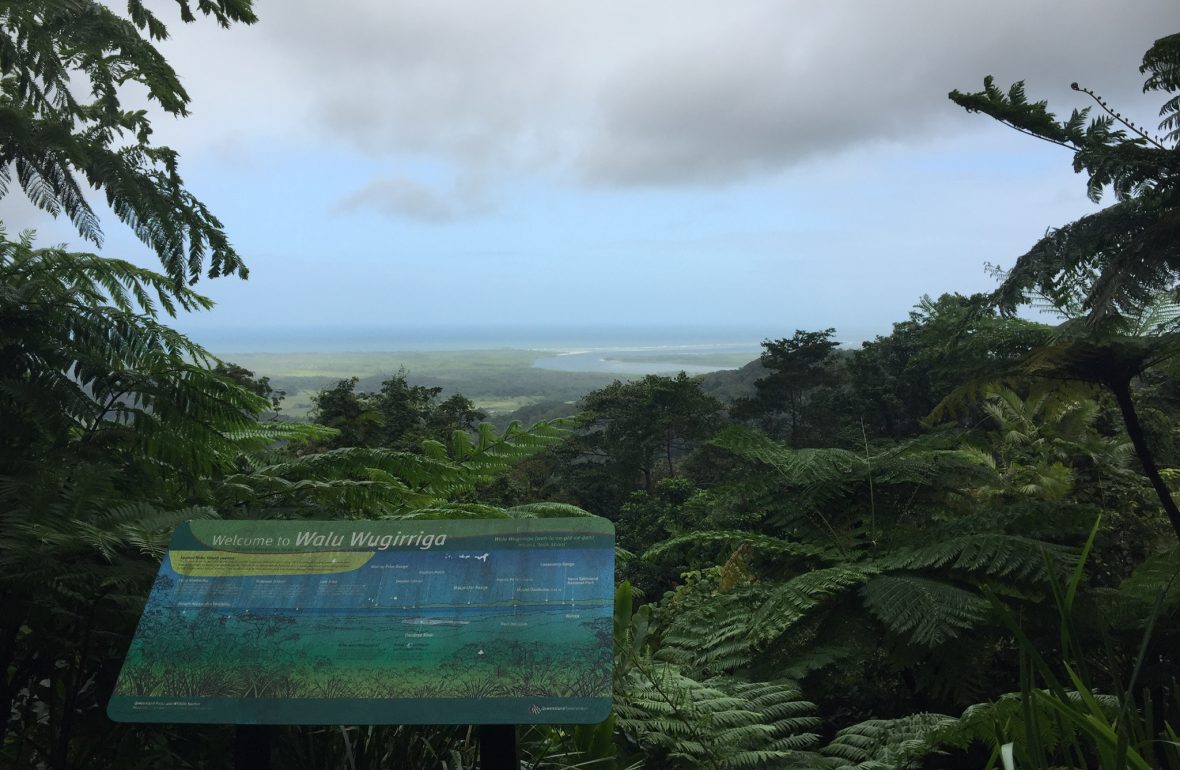 Well yes, you can. But it's harder than being at home. Away from our routines and reusable containers, moving around and being on the road, limited by not knowing where the best places to shop are… these are a few obstacles that popped up for us on our recent trip to tropical North Queensland.
Being prepared and organised is the first step in reducing unnecessary waste. Along with the usual holiday check list items, here is a list of extras we packed:
– Reusable drink bottle for each person
– Keep cups
– A couple of lunch containers (which we filled with snacks for the plane flight)
– Some reusable produce bags
– Fold-up shopping tote bags
– A beeswax wrap
– An ice pack
Most of the above items revolve around food shopping and storing. This seems to be one of the biggest contributors to waste on a holiday, but there are lots of things you can do to lessen the amount you produce.
On our 13 day holiday we moved around a bit starting at Cairns and traveling up to Port Douglas and Cape Tribulation for a few nights. Then we settled back in Cairns, choosing to stay in a small AirBnB apartment for five nights. After that we swapped over our hire car for a Jucy Condo campervan and we travelled around the Atherton Tablelands. It was fantastic to be able to see so many beautiful places!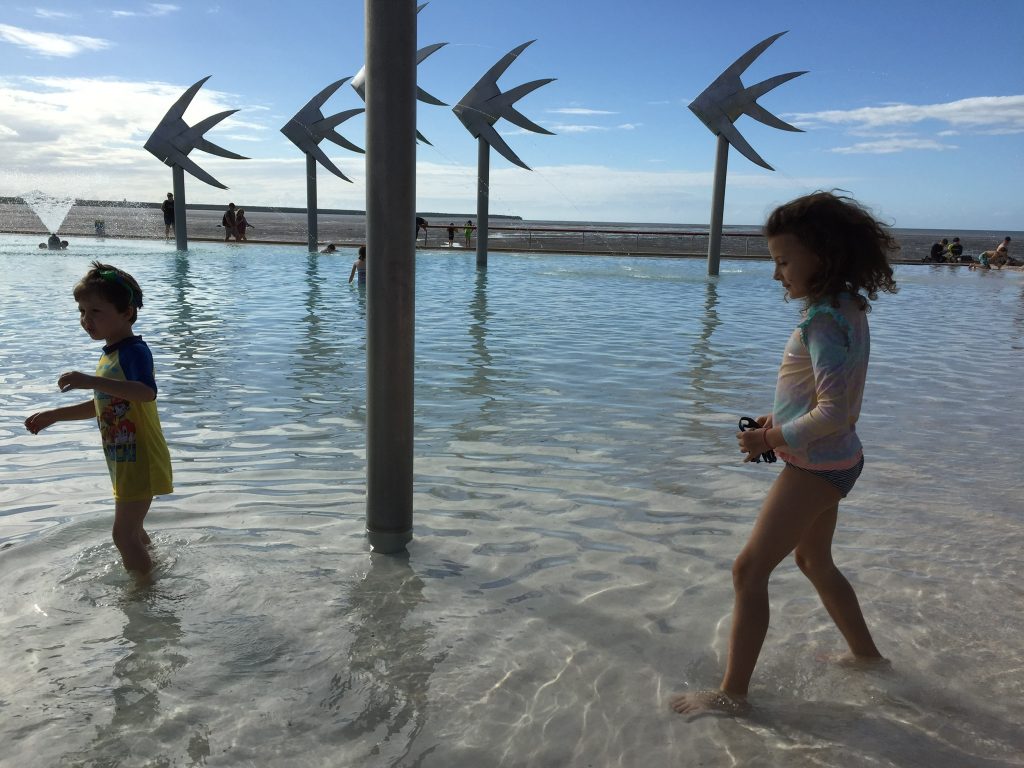 So what did we do exactly to reduce our waste? Let's break it up into three main sections and I'll give you my best tips on how to minimise your environmental impact for each.
Airports, Flights and Day Trips
Drink bottles and snack containers (filled of course!) are essential if you're traveling with kids and don't want to purchase packaged snacks. We threw in a dried fruit and nut mix from home into our containers and some apples into a produce bag for the first flight.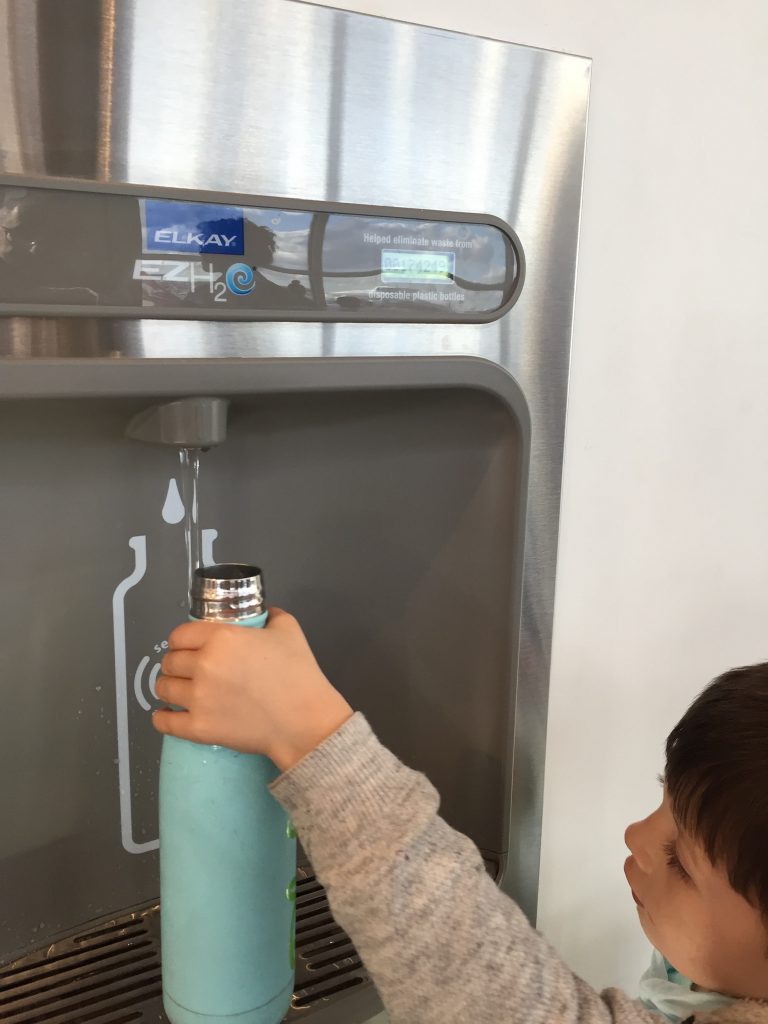 We had a stopover in Sydney and took advantage of the water refill station to top up our water bottles. Navigating the food court at lunch time was a mission but we settled for sausage rolls which came in paper bags (and then popped into the recycle bin) and we ordered some coffees in our keep cups. The kids were still hungry so we also bought a yoghurt cup which came with plastic spoons. When finished I simply wiped them over and tucked them into my bag for reuse.
On the flight we didn't purchase anything so that was an easy way to avoid food and drink packaging. The kids were occupied with activity books and a pencil case each.
For day trips we made most of the snacks and lunch we would need for the day and packed it into containers, the beeswax wrap or we reused empty packaging such as the resealable bag that you buy wraps in. The ice pack was frozen over night and packed into the backpack to ensure food kept cool.
When treating ourselves to ice cream we chose cones where possible to create less waste. The Daintree ice creamery served their delicious homemade ice cream in recyclable cups and with metal spoons. Hurrah! Also refusing napkins and receipts helps too. And we also carried our keep cups for the daily caffeine hit.
When it comes to holiday brochures it's easy to grab a handful. And while we did end up with too many, and sometimes multiples of the same one (cos kids didn't wanna share), it would be better to take a photo of any details you need and leave the brochure on the shelf.
Resort, Apartment and Hotel Stays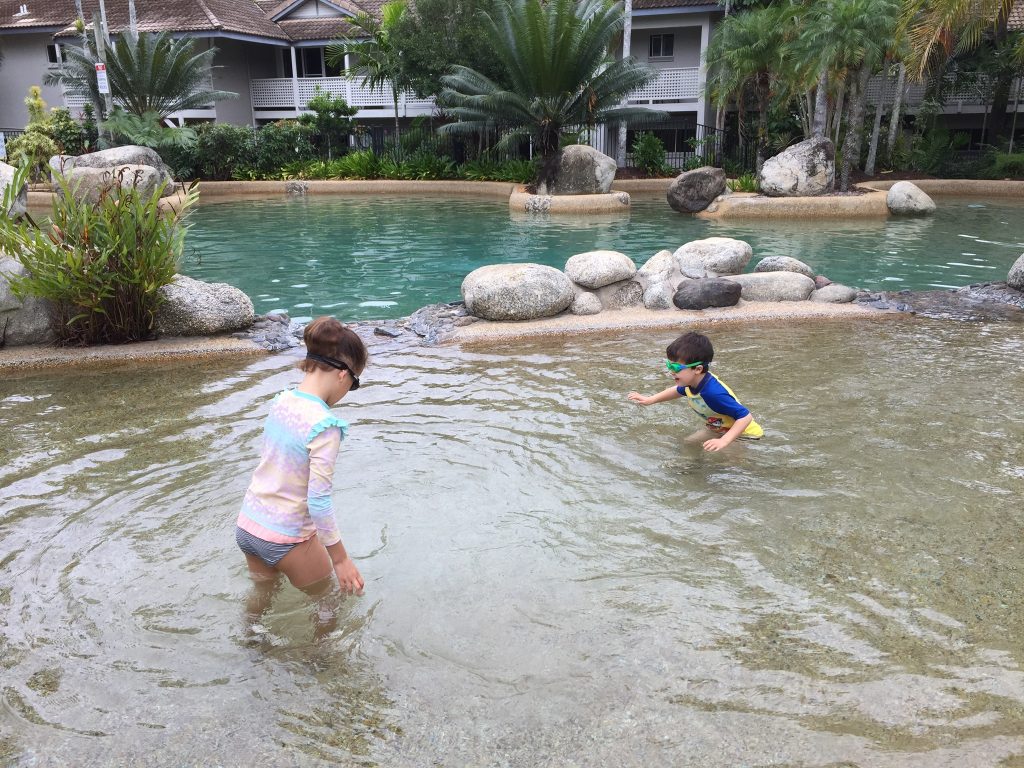 There's some bonuses when choosing to stay in an AirBnB apartment/home such as having some basic items provided in the kitchen like tomato sauce and olive oil. We tried to plan out our meals and shopping list before hitting the shops with our reusable bags. Much of our food came in packaging but we were able to reuse some of it for wrapping/storing leftovers and recycle it afterwards. We even drove our recycling around with us for a couple of days until we found suitable bins! Food waste was a difficult area to avoid as we had no access to composting.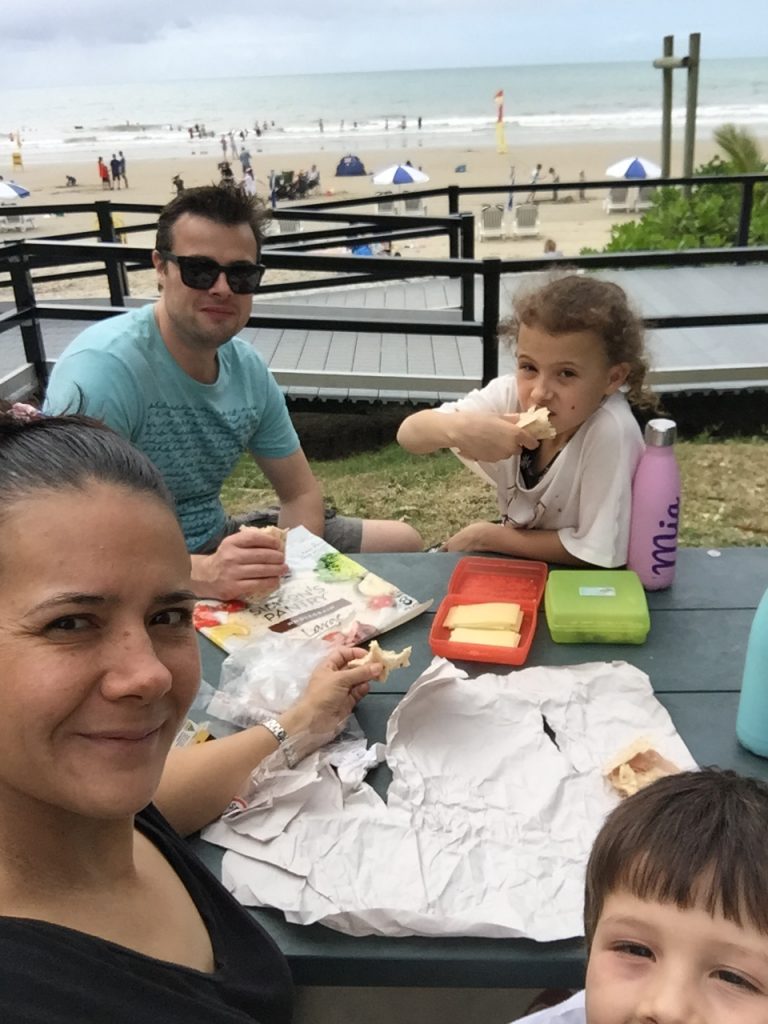 I noticed in most of the accommodation we stayed in there were multiple bins, each lined with a plastic bag. One in the kitchen, another in the bathroom/en-suite and one in the outside bin. We chose to use one bin only and leave the others untouched in the hopes that they wouldn't need to be changed if we didn't use it.
Those little plastic bottles of shampoo and conditioner that are often provided in hotels were left untouched. I packed a simple bar of soap which did all the work and therefore we didn't need to use them.
Thankfully we had a washing machine in Cairns so we were able to do a big wash. We'd all packed fairly light (only checked one suitcase and the rest was carry on) so we were running low on clean stuff. I hit the 'eco' button on the machine and lined dried our clothing and towels.
Campervanning
Our campervan came equipped with a small fridge and a small gas cooker. We again planned our meals ahead and bought food that would be easy to cook in a frying pan or on a BBQ (as we planned to stop at caravan parks each night). Sausages are a practical dinner as they are good to eat cold again the next day!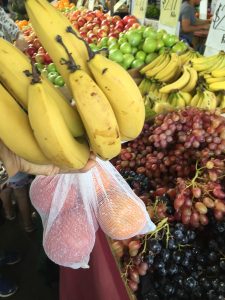 .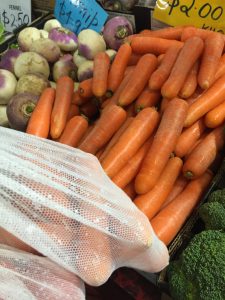 .
We did a fresh produce shop at Rusty's Market where we refused plastic bags and used our produce bags and shopping tote bags instead. We got to see how sugar cane was used to make juice and how coconuts are opened.
The Atherton Tablelands have some amazing attractions including the waterfalls drive, the Fig Curtain Tree and Lake Tinaroo. I picked up the occasional piece of rubbish but it was great to see that most of these tourist attractions were litter-free and well maintained.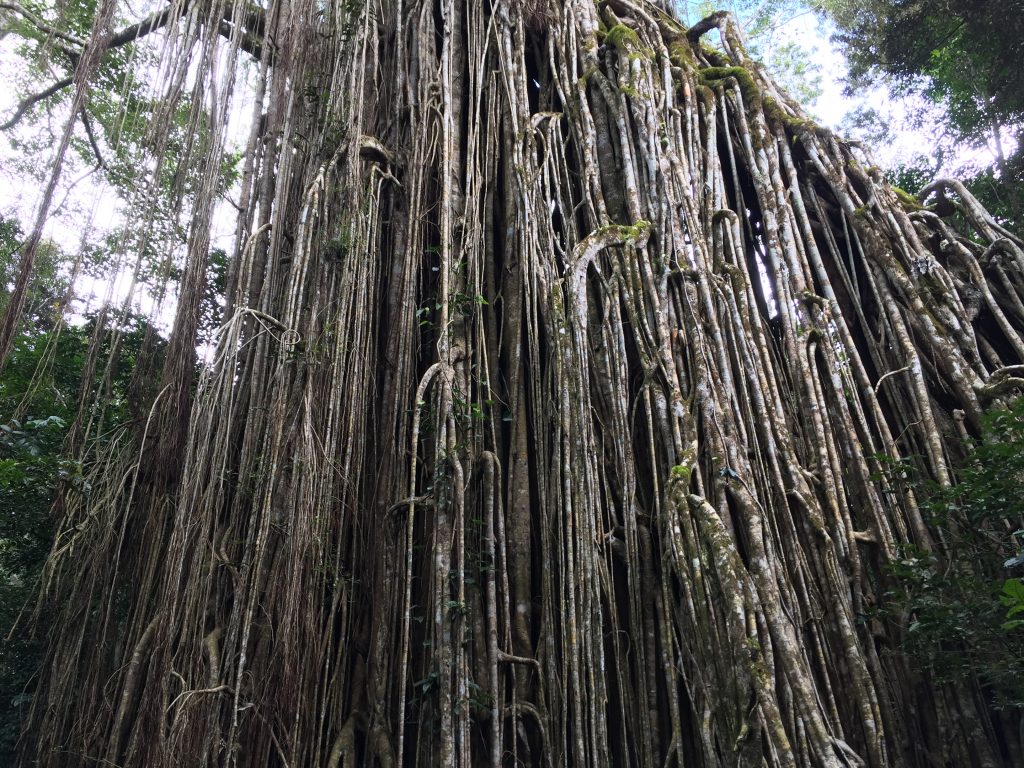 The holiday was almost over and on our last night, it was leftovers for dinner. We used up whatever we had, which meant the kids had cereal for dinner and they LOVED that!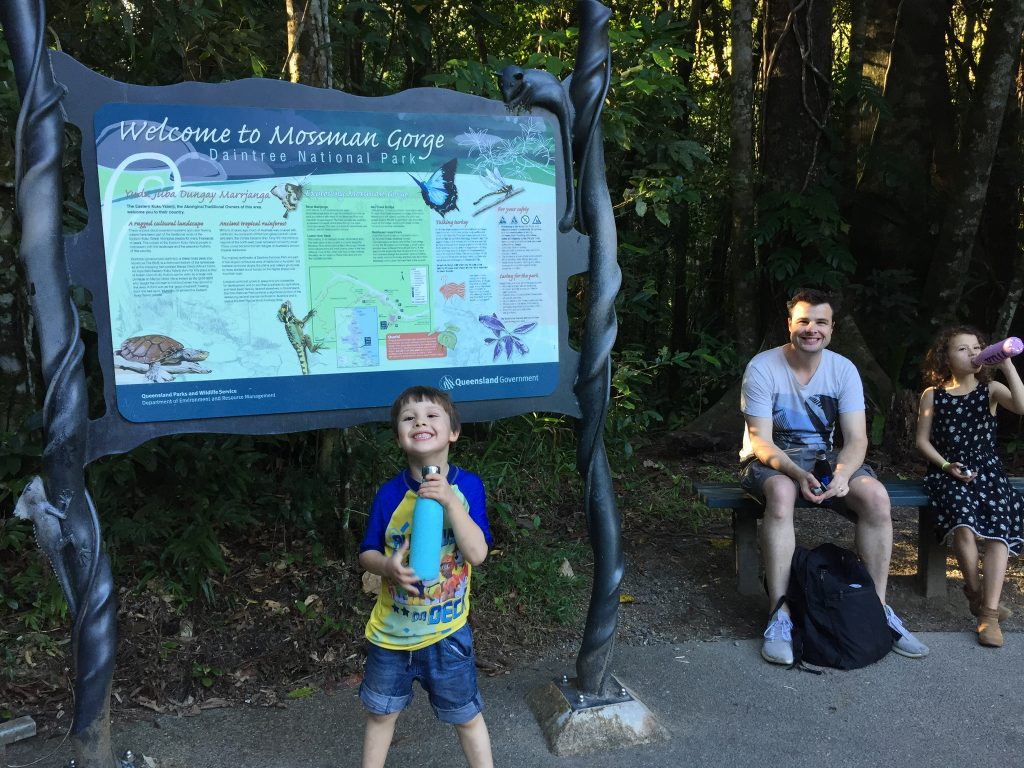 So, did we totally avoid creating waste on our holiday? Definitely not. Were we plastic-free this July? Not quite. However we did take several steps to reduce our waste and if everyone did this it would add up to make a huge difference.
Have you traveled recently or planning a holiday soon? I'd love to hear any extra tips for reducing waste that we could put into action on our next one!